Parfait Casey Plunge Molded Bra is the perfect T-shirt bra offering great support and smooth finish. Shop all Parfait and T-Shirt bras today at Hourglass Lingerie and take advantage of free shipping!...Read more
---
american express

apple pay

diners club

discover

elo

google pay

jcb

master

paypal

venmo

visa
Description
Take a plunge in this uplifting bra. Features light foam padding that's slightly graduated for a "boost" that showcases your cleavage. A lace overlay on the sides of the cups adds feminine charm.

Smooth cup with lace detail on cup sides

Side boning and powernet wings provide support

Sexy Plunge front

Lace overlay adds a feminine touch

Plush elastic and strapping add comfort
Size Guide
How to Measure Yourself for the Correct Size Bra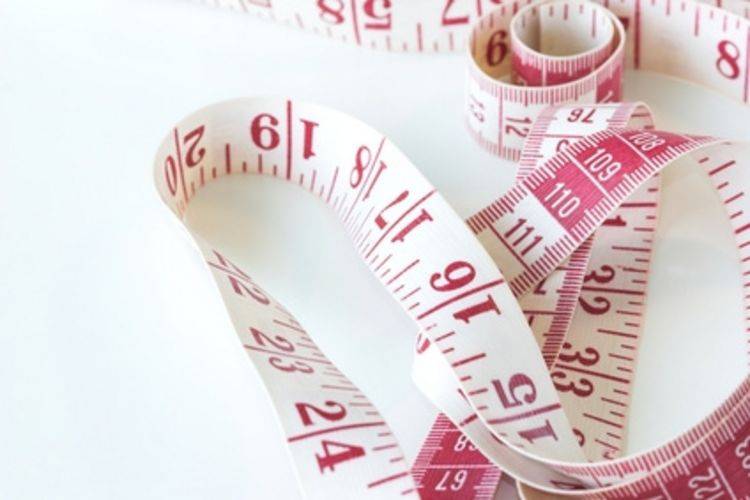 The Right Bra for Me
A bra should be supportive, functional, and fun all at the same time. When you get fitted for a bra, you are not only getting fitted for a body type, but a personality as well. Wearing the correct bra size and style changes your whole persona. You become more confident, proud, and comfortable; giving you the confidence to do what you dream of doing, which will make a profound difference in your life.

The Test
While wearing a bra, lift your boobs with both hands. If you notice any difference in the way you feel you are wearing the wrong size bra. This is where we want to help you.

Measuring yourself for a bra is an art and not an exact science, but our fit guide can provide you with a useful starting point.
 
 
Getting the Perfect Fit
***It's best to measure yourself when you're wearing a bra – make sure it has no padding and is not a minimizer.
For your band size pull a tape measure around your torso, right underneath your breasts. Make sure that it lies flat at the back and in a horizontal line all the way round. Pull it real snug to get an accurate measurement. When you take these measurements, round to the closest whole inch, either up or down. (For example, if your measurement is 29 3/8", round to 29". If your measurement is 29 1/2" or more, round to 30".) This rounded even number measurement is your band size.

For your cup size measure around your torso, across the fullest part of your breast. Again, make sure that the tape measure is at the same level all the way round, but this time take care not to pull it tight. Round up or down to the nearest inch as you did to find your band size. Now, subtract your original underbust measurement from this second measurement. The difference is your cup size (see chart below). Example: 38" - 33" (underbust measurement) = 5" = DD cup size.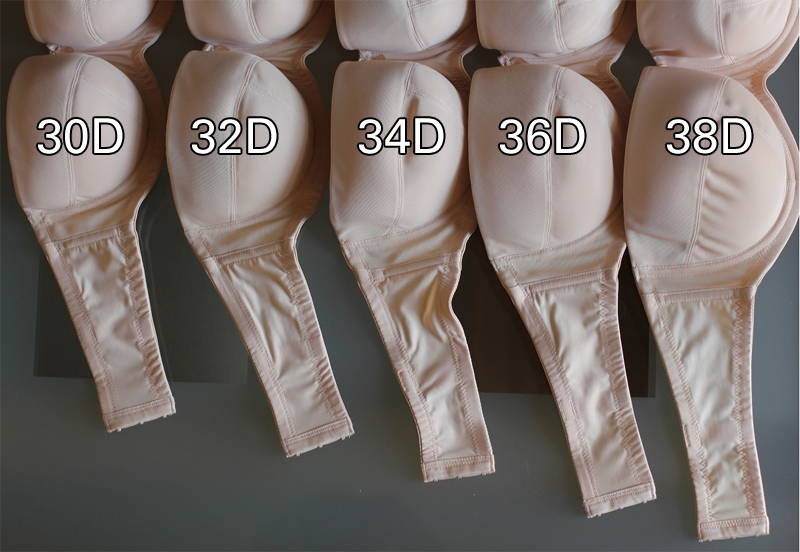 Once you get past the D cup sizes and larger, there tends to be a discrepancy among brands as to what to call sizes beyond a D cup. We hope this chart, based on the country of origin of the manufacturer, clears up some of the confusion.
Use the table provided to get more information about sizing patterns different brands follow.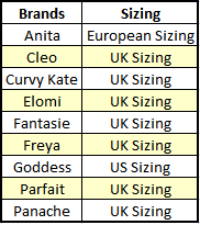 Helpful Tips to a Perfect Fitting Bra!!
1. Fill your cups ... Baggy cups are not a good look. Try going down a cup size. If your cups are creasing around the nipple, however, that's a different matter. Try going down a back size to pull the fabric taut.
2. ... but don't overflow Spilling out over the tops or sides of your cups won't make your breasts look bigger (there are padded and gel-filled push-up bras to do that). It just means that you're wearing too small a cup size: try the next one up. For most women, one breast is larger. In many cases one breast may even be one cup size larger than the other. In such situations, you should choose the cup size that fits your larger breast.
3. Don't let the straps take the strain A bra's main support comes from the band, not the straps. So make sure that you're wearing the correct band size: too big, and your straps will end up taking the weight, which will cause them to dig in.
4. Think horizontal Look in the mirror side-on. Is your bra band at the same level all the way round? If it's riding up at the back, you probably need a smaller band size. It even helps to pull the back about an inch lower than the front that should give you a clean line and take care of some of that "back fat".
5. Finger rules Never mind a rule of thumb; here's what you need to know about fingers. Your bra band should feel tight and firm, but with enough space to insert two fingers under the back band, and one under the centre front.
6. Fasten a new bra on the loosest hook Fascinating bra fact: a bra can grow up to 4" due to wash and wear. So when you buy a new bra, make sure that it fits properly on the loosest hook; you might need to tighten it with wear.
7. Underwiring should lie flat at the front The centre front of your bra should lie flat against the breastbone. If it doesn't, it's telling you to go up a cup size.
8. Underwiring sits on the bone And while we're talking about underwiring, check the wire at the side of the bra. It should sit on the ribcage, without digging into any of the breast.
9. Bring a t-shirt The best way to see what shape a new bra will give you is to try it on under a tight fitting t-shirt. Look at yourself from all angles and make sure that you get a smooth line with no unwanted bulges.
10. Get moving! You wouldn't buy a pair of shoes without walking around in them. So why should buying a bra be any different? Don't just stand there: stretch out and flap your arms to make sure it feels comfortable when you move. Also make sure to sit down in your new bra, this will tell you whether the bra will dig and bother you when you are sitting in it all day!
Returns and Exchanges
Return Policy:
All returned items should be sent to: 

Hourglass Lingerie
3500 Parkdale Avenue
Suite 25 Box A-25
Baltimore, MD 21211
Refunds 
Your purchase doesn't comfort your every last curve? No worries, Hourglass Lingerie offers returns and exchanges within 30 days of your purchase. Orders returned after 30 days are subject to a restocking fee. Fill out the return form included with your package. For exchanges, you must fill out the bottom portion of the return form. If you are unable to find the enclosed return form, or need a new one, you can print one out Click Here. All items must be returned in clean, like new conditon with tags still attached.
Refunds can only be processed to the original credit card used. Refunds may take up to 7-10 business days from the date we receive your returned package. Refunds may take 1-3 business days to appear on your statement once processed.

Exchanges 
We cannot guarantee items requested for exchange will be in stock. We will contact you if your requested items are no longer available by the manufacturer, or are on backorder. If the exchange is lless than the original sale, then you will be refunded back to the original method of payment. If the exchange is more than the original sale, we will contact you for payment to complete the exchange. When sending back a item for exchange, please include the size, style and color you wish to exchange for. 

Return Shipping Cost 

All customers are responsible for shipping charges of any kind for any items sent back to Hourglass Lingerie. However, if you would like to exchange for a new item, Hourglass Lingerie will cover the cost of shipping for the exchange, once your return has been received. 

In the rare event that you receive an incorrect, damaged or defective item, please contact us at 443-869-5324 or email us at info@hourglasslingerie.net. Customers must report the problem within 7 days from the date the item was delivered.

Need Help 

If you have any additional questions or need advice? Please call us at 443-869-5324 or email us at info@hourglasslingerie.net. Our fitting specialist will be more than happy to answer your questions!
Customer Reviews