A bra should be supportive, functional, and fun all at the same time. When you get fitted for a bra, you are not only getting fitted for a body type, but a personality as well. Wearing the correct bra size and style changes your whole persona. You become more confident, proud, and comfortable; which gives you the confidence to do what you dream of doing, which will make a profound difference in your life.

Measure for Band Size.
For your band size pull a tape measure around your torso, right underneath your breasts. Make sure that it lies flat at the back and in a horizontal line all the way around. Pull it real snug to get an accurate measurement. When you take these measurements, round to the closest whole inch, either up or down. (For example, if your measurement is 29 3/8", round to 29". If your measurement is 29 1/2" or more, round to 30".) This rounded even number measurement is your band size.
***It's best to measure yourself when you're wearing a bra – make sure it has no padding and is not a minimizer.
Measure for Cup Size.
For your cup size measure around your torso, across the fullest part of your breast. Again, make sure that the tape measure is at the same level all the way round, but this time take care not to pull it tight. Round up or down to the nearest inch as you did to find your band size. Now, subtract your original underbust measurement from this second measurement. The difference is your cup size (see chart below). Example: 38" - 33" (underbust measurement) = 5" = DD cup size.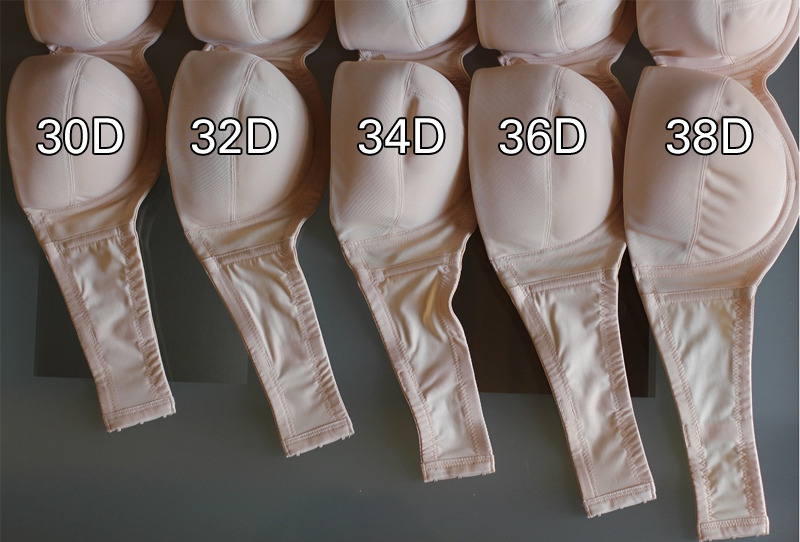 When finding the right size here are a fews tips to keep in mind:
All cups are not created equal. As shown in the picture above, a 30D is much smaller in volumn than a 38D, although they are both a D cup. Therefor, changing the band size will also change your cup size. If you go down in the band you will need to go up in the cup. And vice versa, if you go up in the band you will need to go down in the cup.
If you are a DD cup size or larger, your cup size may vary a bit depening on the manufacturer.   Most intimates are based off US, UK and European sizing. First find out if the bra you are currently wearing is in U.K. or U.S sizing then check our Conversion Chart tab to get your correct conversion. Remember, we are the experts so don't hesitate to call on us!
  Bra Size Conversion Charts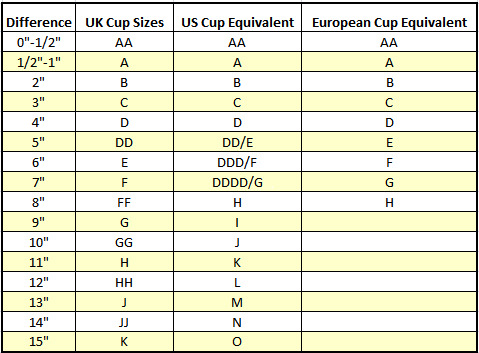 International Sizing Chart
Here at Hourglass Lingerie we know bra shopping isn't the easiest and we want you to have a large variety to choose from. That's why we carry US, UK and European Size bras! Once you get past the D cup sizes and larger, there tends to be a discrepancy among brands as to what to call sizes beyond a D cup. We hope these charts, based on the Country of origin of the manufacturer, clears up some of the confusion.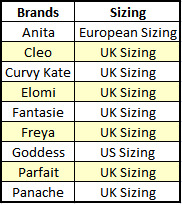 Sister Sizing Chart
Sister sizes are alternate sizes where the cup volume stays the same although the band and cup size changes. While sister sizing opens a door of opportunity for more sizes and choices, your sister size might not always work depending on the style and fit.
How do I find my sister size? 
Sister Size DOWN: One size smaller than your current band size and one letter larger than your current cup. Example: If your natural size is a 42D, your sister size would be a 40DD. ( When doing this always check if the bra you are wearing is U.S. sizing or U.K. and then refer to the sizing chart for the next letter size up or down.)
Sister Size UP: One size larger than your current band size and one letter smaller than your current cup. Example: If your natural size is a 42D, your sister size would be a 44C. ( When doing this always check if the bra you are wearing is U.S. sizing or U.K. and then refer to the sizing chart for the next letter size up or down.)
* Chart is based off UK sizing.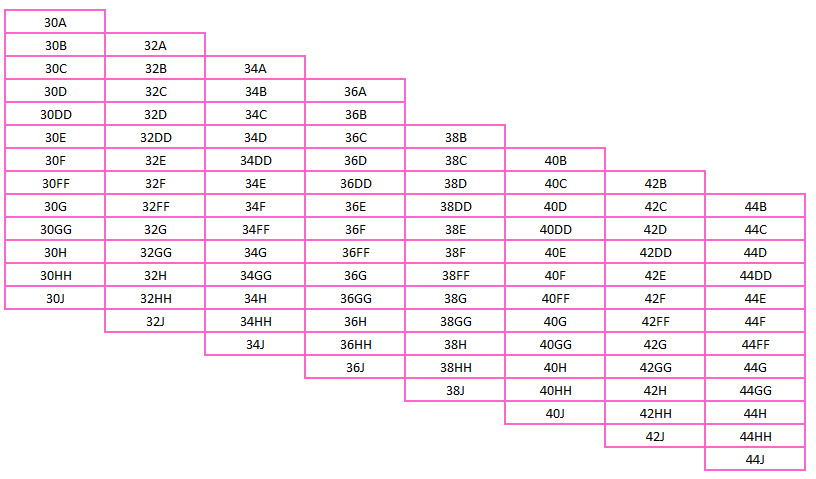 Freya Fancies Bralette Sizing Chart
Freya Fancies lets you live your way, perfect to mix and match with your favourite Freya collections. The bralette offers a soft cup style with gathered cups and double layered fabric for complete comfort and support - available in sizes XS - XL.
*Please note this guide is for Freya Fancies Bralette's ONLY, other Freya Fancies collection items are based off regular UK sizing.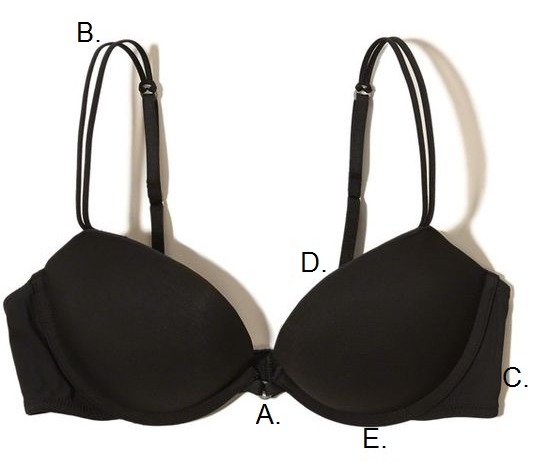 Not every bra looks alike, but almost every bra is created with the same componets.
A. Center Gore-The center gore is the part of the band which sits between the cups.
B. Straps-The straps of your bra shouldn't carry the weight of your breasts, it should stabilize the bra's fit on you.
C. Band-The band refers to the part of the bra that wraps around your body. The band is the most supportive part of your bra.
D. Cups- The cups are the part of the bra that holds the breasts. The most obvious role of the cups is to contain and support the breasts.
E. Underwire-The underwire provides added support and lift to the breasts. It is a metal, sometimes plastic, U-shaped piece sewn into the bra cup that goes from the centre gore to the armpits.
History of the Bra
While we know what components make a bra, where did they come from ?
In one form or another, women have worn garments to support, suppress or accentuate their breasts as far back as 3000BC. By the 1500's the corset elongated the body, flattened and raised the bust while hiding the stomach and hips. The corset, commonly known as a 'stay', was made of linen with boning and stiffened with paste. Women were then 'straight-laced' into them, and the term became synonymous with the pious Puritan women of the 17th century. By the latter part of this century the corsets were more elaborate and it was fashionable to wear them on the outside. By 1825 the high waistline of the Regency style had dropped to a more natural level and corsets became essential to show off an hourglass figure with a desired waist of 18 inches (or less). The Victorian era was the heyday of the corset and advances in design were made through out the Century. New metallic eyelets ensured that the tight lacing required to achieve the hourglass figure need not damage the corset.
The invention of the sewing machine meant the corset could be produced more quickly and could be sold ready made. A huge variety of fashion corsets were made and also corsets for maternity, safari, sports, golfing and riding, even for these activities lacing and boning was still used. As corsets were in such demand whalebone became scarce, leading to the use of buffalo-bone, cane, steel, and steam moulding in corsetry.
By the beginning of the 20th century a bust bodices could be worn as an alternative to the corset and this supported the entire bossom as a whole. It was in 1914 when American Mary Phelps-Jacobs, patented her design in the name of Caresse-Crosby. It consisted of two silk hankerchiefs tied together with ribbon to make straps and a seam in the centre front, due to lack of interest, a few years later she sold her idea to Warner's for $1500-. In 1935 Warner's introduced the first cup sizing with only A, B &C. Britain continued to use the junior and medium sizing until the 50's.
In 1939 the word bra was added to the English dictionary, it is worth noting that brassiere in French means an infant's bodice or harness, therefore soutien-gorge is the correct French term for bra. Throughout the twentieth century the bra has been developed by advancements of man made fabrics such as, nylon, Du ponts's Lycra, polyester, Elastane microfibres etc. These new fabrics have enabled garments to be lightweight, supportive, flexible and seamless, to have colorful prints and to be easier to wash. The bra has taken many shapes through out the century. From the conical looks of the 1950's sweater girls, maximum cleavage bras, sexy lace bras and of course the 'burn your bra' ethos of the Women's Liberation Movement. It is estimated that the lingerie market was worth half a billion pounds at the end of the 1990's. The new millennium has seen further advancements in design and fabrics, with many innovative designs now in the market.
The perfect fit doesnt stop at sizing. In fact finding the right fit means finding out which styles best suit your body type. Not all bra styles are made for everyone, or every occasion. You may need a Corset for that wedding you were invited to, a Plunge bra for a Saturday night out or a Full cup bra for everyday coverage. When finding your right fit you want to try on a variety of different styles to find which style works best for you and your body type. Use the this guide to help you figure out which styles best fit you!

Balcony: Balcony bras have 3/4 coverage. Usually has 3 part cups with the bottom section connecting to straps to give the most uplift.
Perfect for: Enhance bust size and create great cleavage
Bralette: A bralette is an unstructured bra. It's usually unlined, unpadded, wire-free.
                                                      Perfect for: Smaller cup sizes
Bustier: A Bustier is a form fitting garment, that provides lift to the breast and helps gently shape the waist.
Perfect for: Under special occasion-wear
Corset: A Corset is a tightly fitted undergarment extending from below the chest to the hips and is worn to shape one's figure.
Perfect for: Providing shape to the body




Underwear & Swim Bottom Guide
With tons of sizes, styles, fabrics, colors and prints to choose from, you will find the perfect panty for every occasion. Not sure on what style is best for you? Check out our guide below! We have also included sizing charts below to help you find your perfect fitting underwear and swim.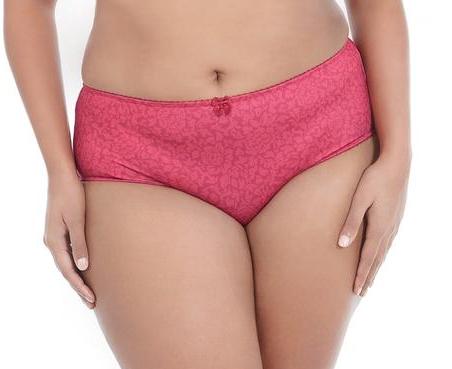 Boy short panties are usually very fitted short style offering full coverage and resemble low rise.
Bathing suit bottoms that provide full coverage with a lower leg cut.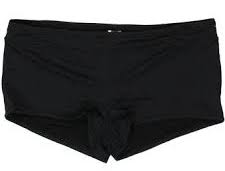 A classic woman's cut. Briefs sit slightly under the navel just at the hip and provide full back coverage.
Adjustable ties on the sides make this swimsuit comfortable and convenient. Designed with a slimmer cut, tie-side bottoms offer medium coverage.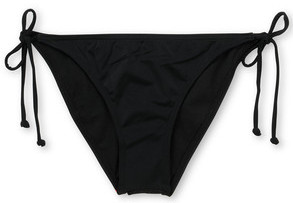 Like the classic brief, the high cut brief has better support without the elastic at the legs. High cut briefs offer a flirty silhouette and help also, with tummy shaping.
 A bottom that has the top waistband within an inch of the natural waistline. High-waisted swimwear add a flattering fit to both the lower stomach and bottom.
Hipsters provide mid coverage and work well with low rise garments. Hipsters have a low-rise cross between bikini and brief.
Hipsters are a hip-hugging, low-rise bikini bottom that offer less bottom coverage.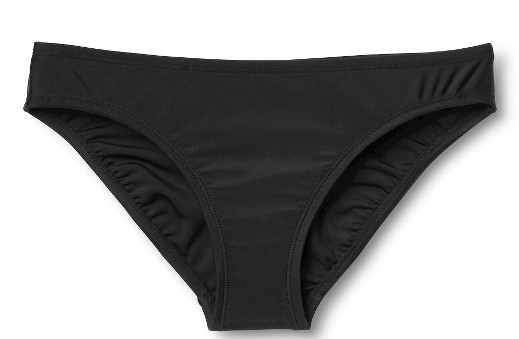 A bottom with the top edge of the suit at or below the hip bone, offers less bottom coverage.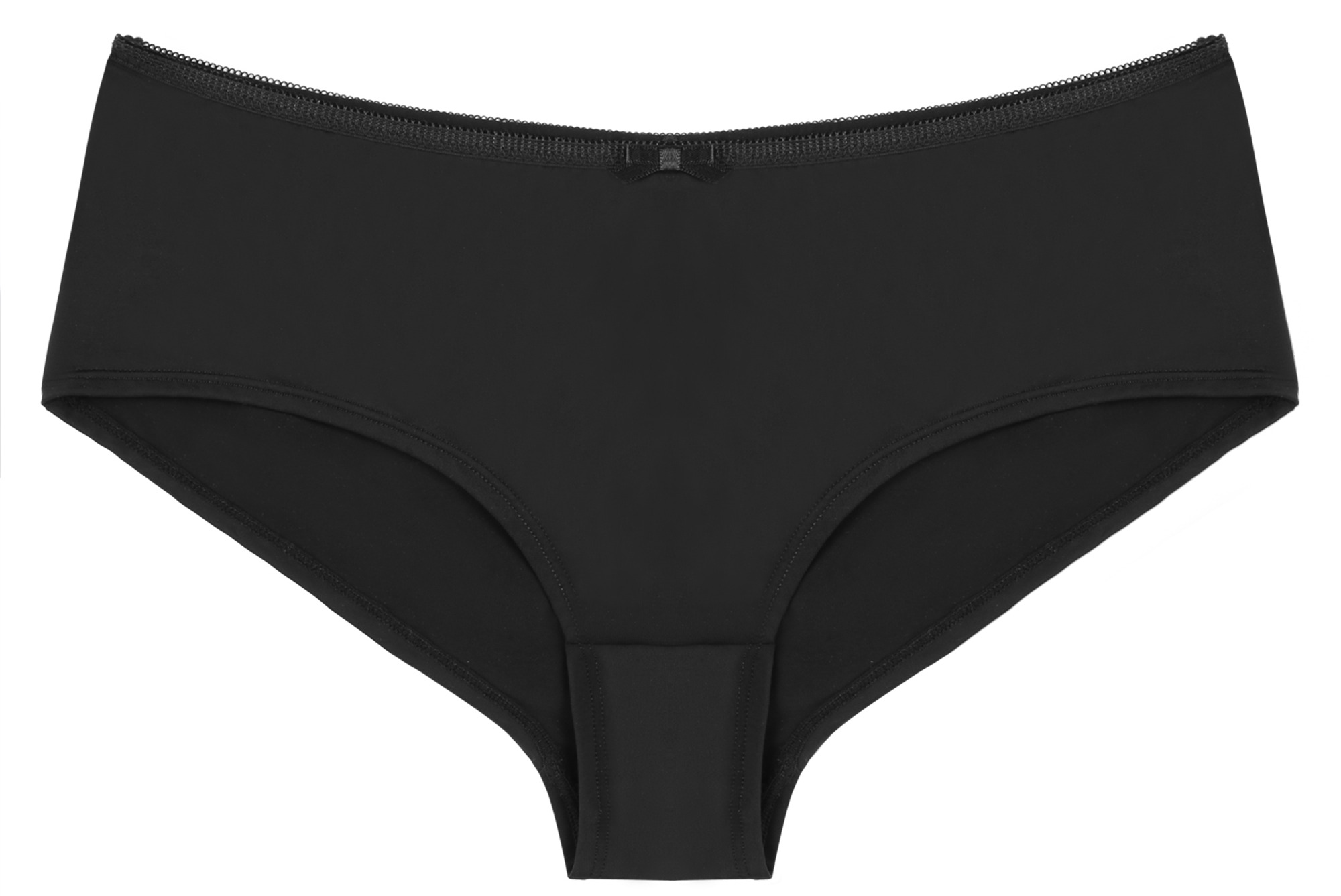 A thong consists of narrow strip of fabric in the back with varying widths of side banding. Thongs offer very little coverage while minimizing panty lines
A bottom with the top edge of the suit above the hip bone and below the natural waist. Mid Rise brief offers moderate rear coverage.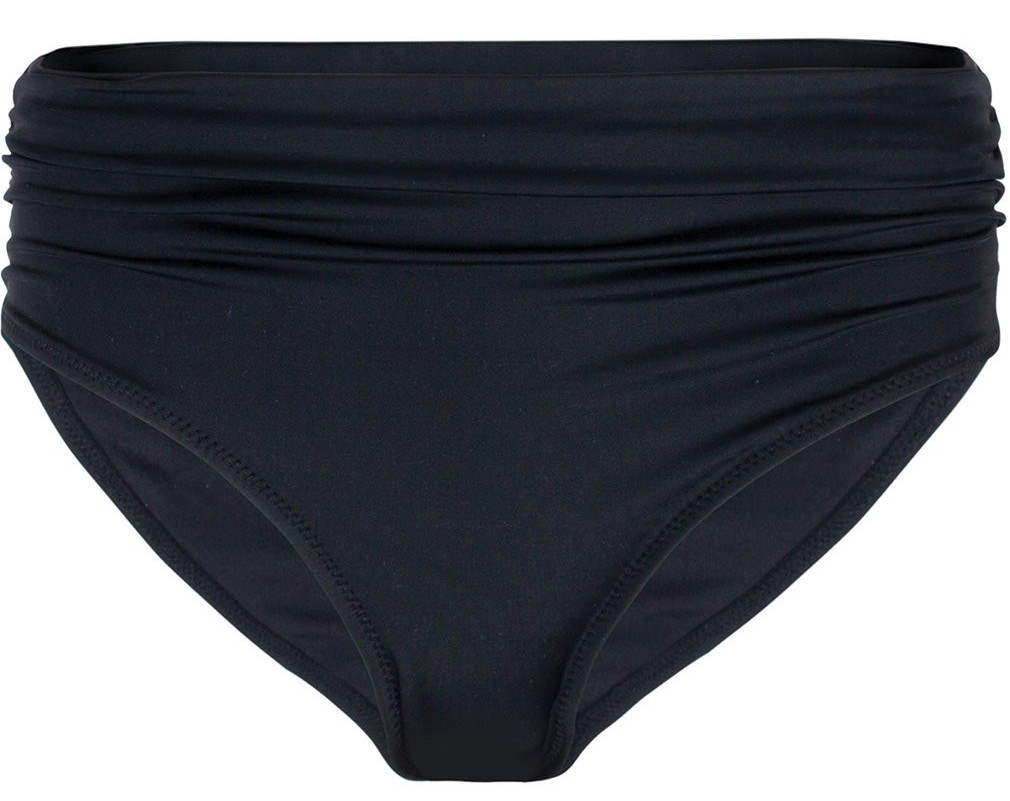 Garter belts are traditionally used to hold up stockings or pantyhose. The garter belt goes around your waist and uses clips or snaps to hold stockings in place
A swimsuit that is a skirt with an attached panty; may be adjustable.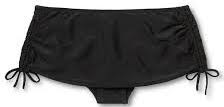 Sizing Charts for Underwear & Swim Bottoms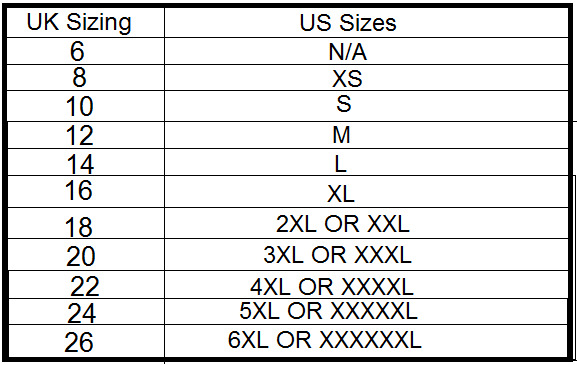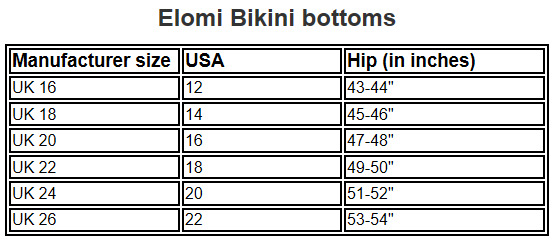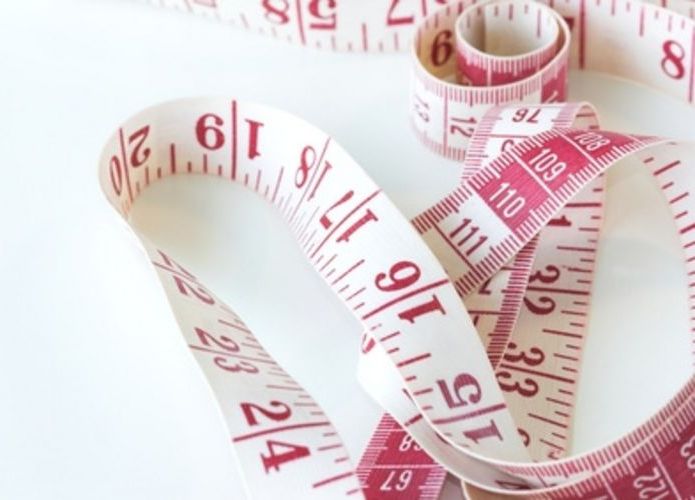 How to properly put on a bra
Putting on a Bra the proper way:
1. Slip the bra straps over your arms
2. Lean forward so your breasts fall into the cups
3. Reach behind you to hook the bra
If you're wearing an underwire bra, you may need to adjust the band so that the wire is laying flat against your chest and cradling your breast. The underwire should never lay directly on your breast tissue, or it can cause discomfort. When you first put on a bra, your breast tissue usually isn't properly positioned within your bra cups. Your breasts may be squished or pushed out of shape by the process of putting on the bra. Slide your hand under the root of your breast tissue toward the bottom and back of the cup, and bring it up and forward into the cup.
  The right fitting bra
Fill your cups: Baggy cups are not a good look. Try going down a cup size. If your cups are creasing around the nipple, however, that's a different matter. Try going down a back size to pull the fabric taut.
But don't overflow: Spilling out over the tops or sides of your cups won't make your breasts look bigger (there are padded and gel-filled push-up bras to do that). It just means that you're wearing too small a cup size: try the next one up. For most women, one breast is larger. In many cases one breast may even be one cup size larger than the other. In such situations, you should choose the cup size that fits your larger breast.
Don't let the straps take the strain: A bra's main support comes from the band, not the straps. So make sure that you're wearing the correct band size: too big, and your straps will end up taking the weight, which will cause them to dig in.
Think horizontal: Look in the mirror side-on. Is your bra band at the same level all the way round? If it's riding up at the back, you probably need a smaller band size. It even helps to pull the back about an inch lower than the front that should give you a clean line and take care of some of that "back fluff".
Finger rules: Never mind a rule of thumb; here's what you need to know about fingers. Your bra band should feel tight and firm, but with enough space to insert two fingers under the back band, and one under the centre front.
Fasten a new bra on the loosest hook: Fascinating bra fact: a bra can grow up to 4" due to wash and wear. So when you buy a new bra, make sure that it fits properly on the loosest hook; you might need to tighten it with wear.
Underwiring should lie flat at the front: The center front of your bra should lie flat against the breastbone. If it doesn't, it's telling you to go up a cup size.
Underwiring sits on the bone: And while we're talking about underwiring, check the wire at the side of the bra. It should sit on the ribcage, without digging into any of the breast.
Bring a t-shirt: The best way to see what shape a new bra will give you is to try it on under a tight fitting t-shirt. Look at yourself from all angles and make sure that you get a smooth line with no unwanted bulges.
Get moving! You wouldn't buy a pair of shoes without walking around in them. So why should buying a bra be any different? Don't just stand there: stretch out and flap your arms to make sure it feels comfortable when you move. Also make sure to sit down in your new bra, this will tell you whether the bra will dig and bother you when you are sitting in it all day!
The right fitting panty
Good fitting underwear is just as important as a good fitting bra. The right fitting panty should have all of these:
Comfortably fitting crotch. The fabric should not bunch up in the front or the back.
A waistband that is snug but not tight.
Leg openings that are snug but not so tight that they make marks along your thighs.
Buttocks that is cupped. You should get good coverage.