Beach, summer and ocean the Treasure Island Tankini in a cheeky dots design is your perfect companion.  The maternity bra sized swimwear tankini is available with bust lining and multi-way straps which ensures pleasant wearing comfort during pregnancy.  Anita takes great strides to ensure the highest quality and components are put into their bra sized swimwear.
Elomi's Kissimmee Swimwear collection is a gorgeous crotchet collection offering  an ultra-supportive underwire in bra sized swimwear in a vibrant sky hue, making this collection perfect when searching for swimsuits for bigger busts.  Taking inspiration straight from the catwalk, to the  poolside.

Freya Swimwear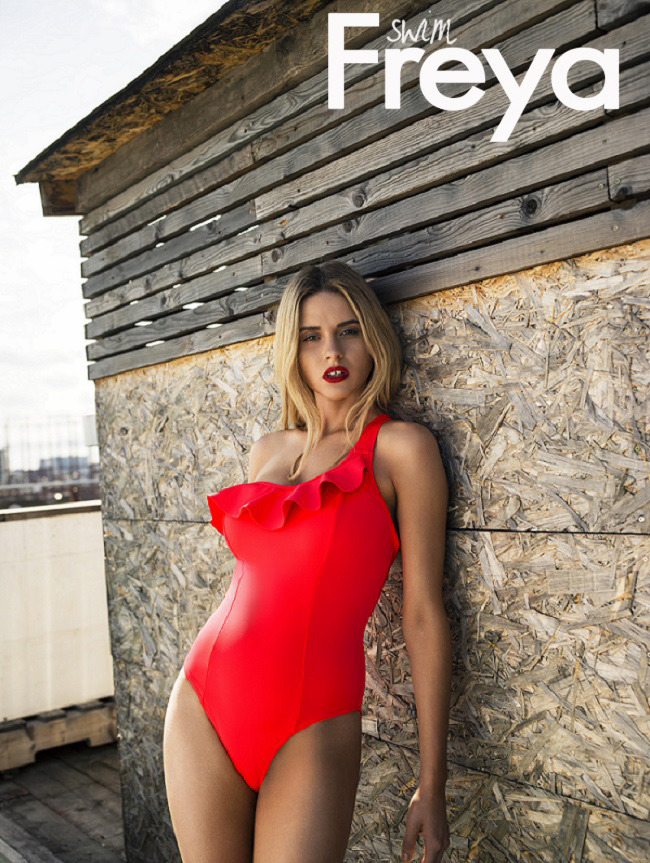 When searching for swimwear, Freya is the source for on trend and the hottest colors in bra sized swimwear.  With timeless pieces such as Remix they ensure you are pool ready all year round.  The Sculpt Frill Suit features ruffled asymmetrical styling and a crossover strap designed to give this bra sized swimsuit a unique look.  AS3949 Insanely Red, sizes up to a G cup.
 
Elomi Swimwear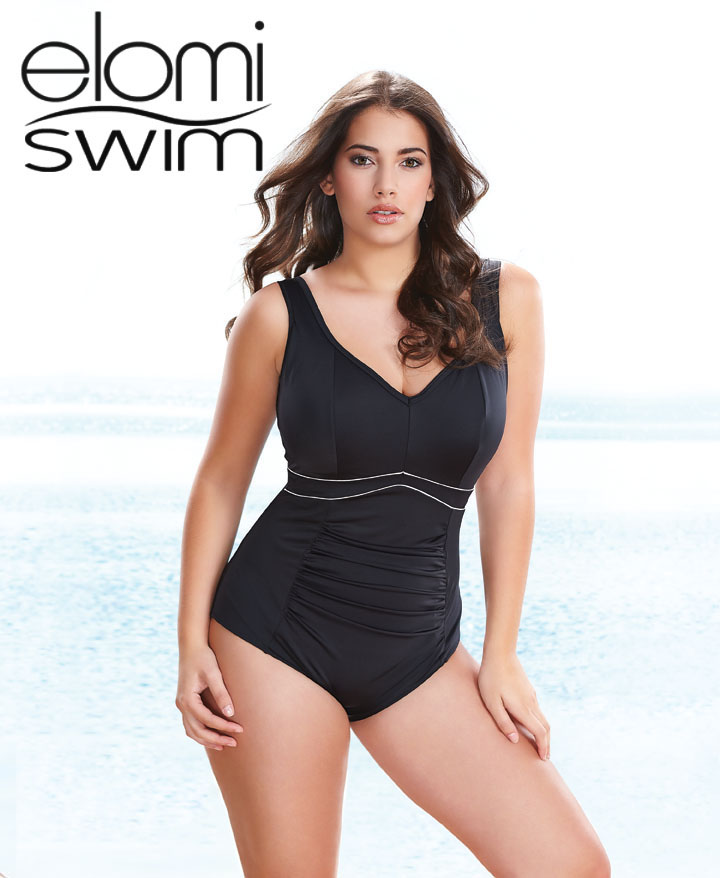 The perfect poolside shape is yours with the Elomi's Essentials bra sized Swimwear collection. The Firm Control Swimsuit features a support fabric that controls your tummy area, along with a ruched centre panel creating a slimming effect.  The firm internal powernet panel also provides additional support through your core.  Elomi has you looking fabulous in bra sized Swimwear made for bigger busts.
Fantasie Swimwear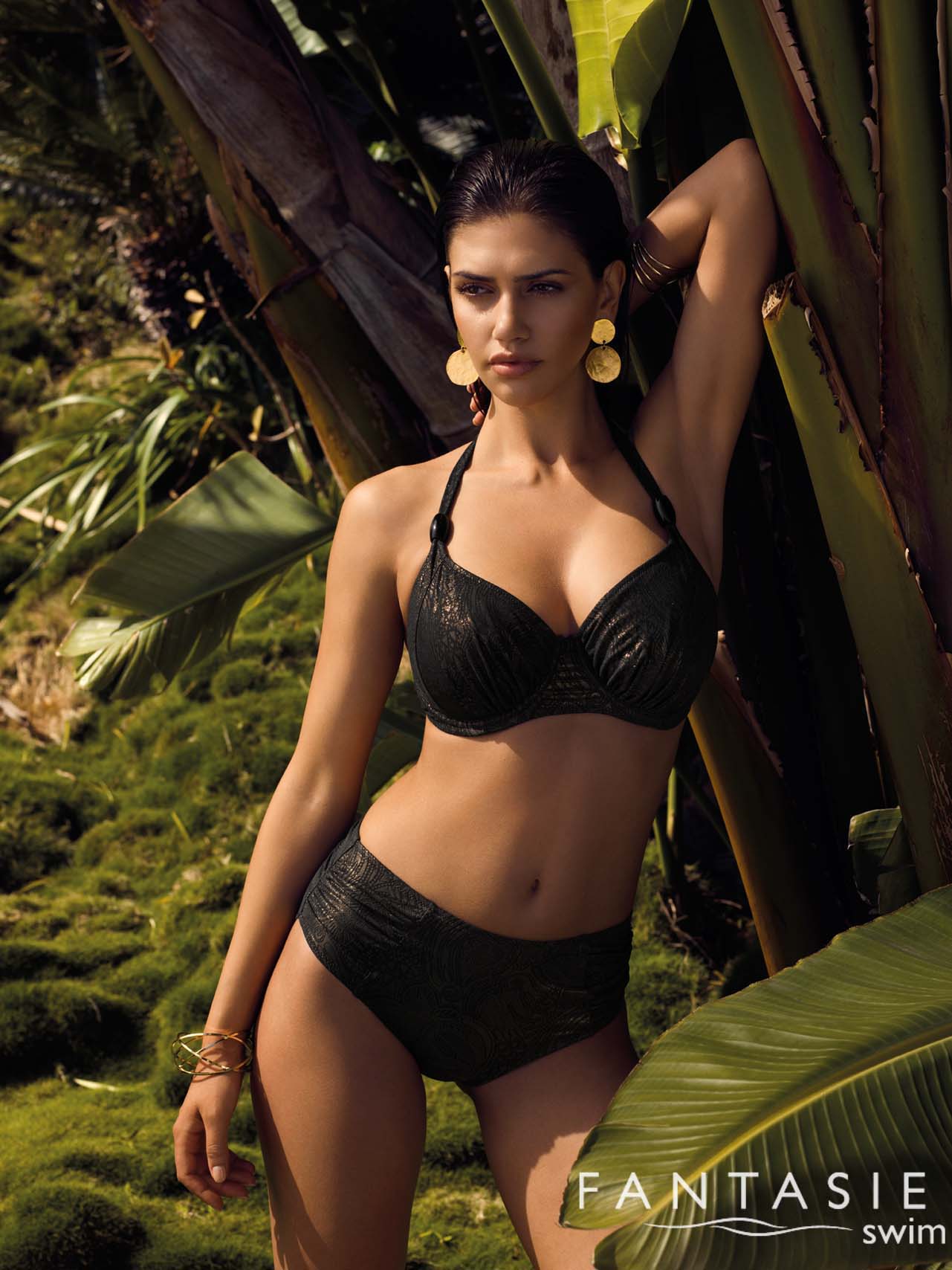 Introducing the bronzed and beautiful St Bart's bra sized Swimwear collection. Lightweight, stylish metallic fabric combined with oversized beads creates the ultimate beach chic look.  Fantasie prides themselves on bra sized swimwear compatible for bigger busts.  Complete your look with the ST Barts FS6182 Deep Brief.
Now Here Is Some Useful Bra Sizing Information for your Cup Sized Swimwear
International Fitting Chart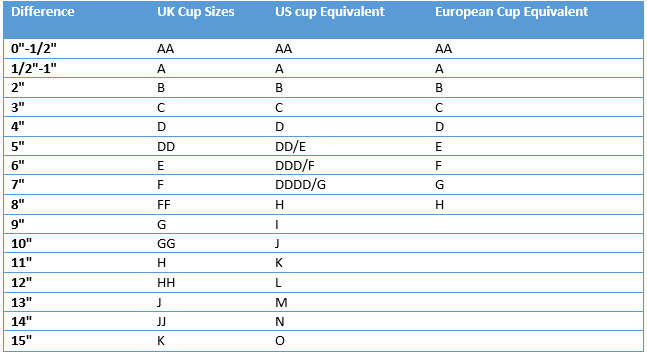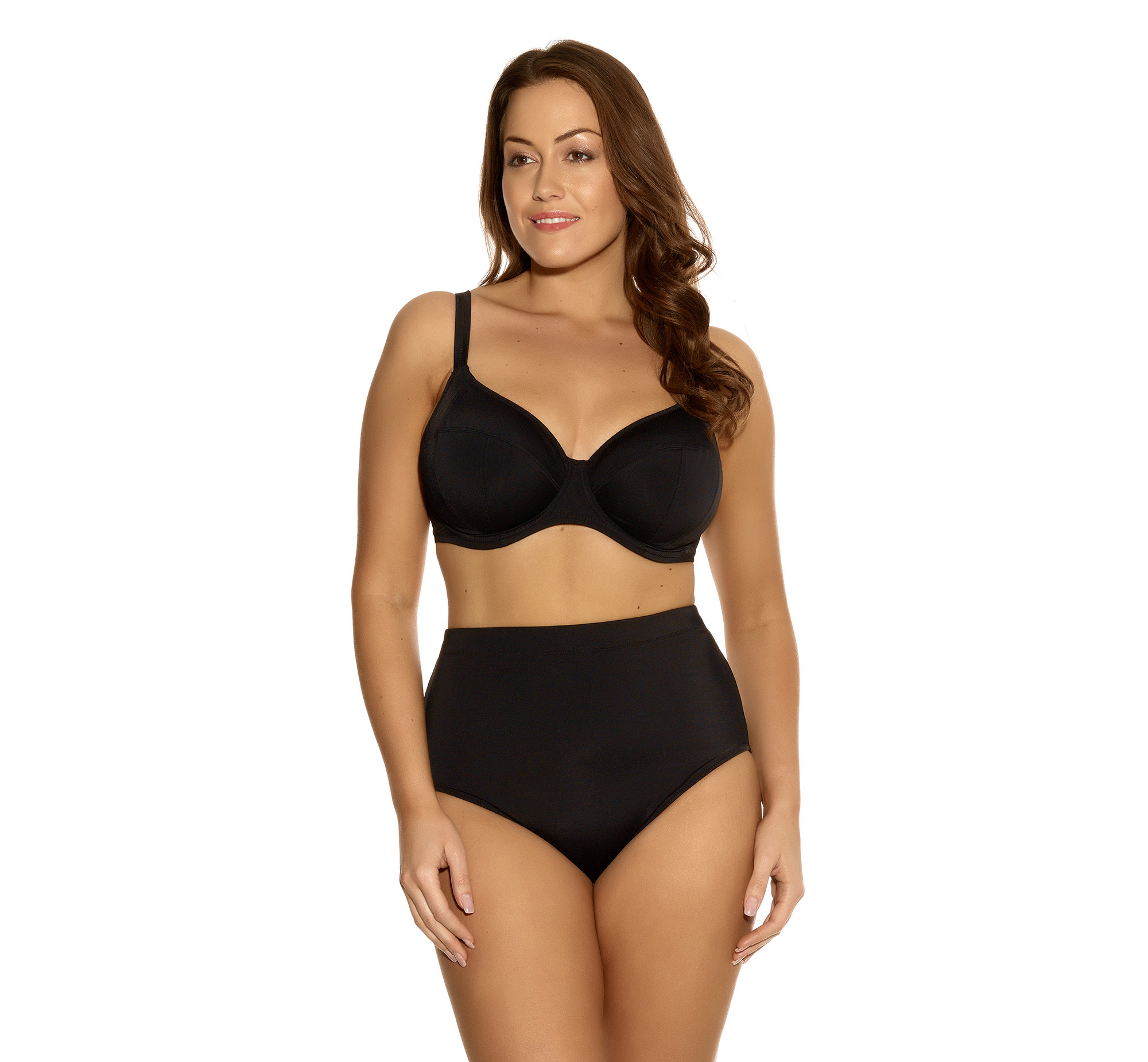 Elomi Swim Essenitals Collection
Elomi Swim knows every lady loves to have choices, that's the genius behind theirbra sized swimwear line.  Elomi Swimwear wants you to have confidence in 3 Simple steps: First, choose your bra sized swimwear top or bandeaus, which have all of the support as their top rated lingerie.  Next, find  a coordinating skirted or high waisted brief that accentuates your curves.  Finallly, choose the perfect tankini that flatters your body type, ruched or flared.  What sets Elomi Swim apart from others is that they are all meant to work together, wear your tankini over the bra sized swimwear top and you will have a gorgeous and well supported look.  Shop all Elomi Bra Sized Swimwear,  in DD Swimwear and higher,  today at Hourglass Lingerie.  The Elomi Swimwear line is in U.K. sizing.
Freya Deco Swim
You can stop your search right here, Freya bra sized swimwear is the known name in DD Swimwear that is fashionabe!  Freya swimwear combines on trend styles and colors with materials and designs that outlast and out perform most other brands.  Bra sized swimwear that is especially designed for full busted and full figured curvy girls, you will be amazed in the selection and equally impressed by the support and comfort that comes with Freya swim.  Cup sized swimwear ranging from D, DD, E, F, G, GG,H, HH and J cups.  Styles such as one piece swimsuits, bikinis, two piece swim, tankinis, full busted swim tops, plus size swimwear and cover ups, briefs, thongs, high cut briefs, brazilians, and tie side briefs are all fashionably fun with Freya swim.  Shop Hourglass Lingerie today to take advantage of free shipping.  Freya Swim is sold in U.K sizing, please refer to our Size Conversion Chart above.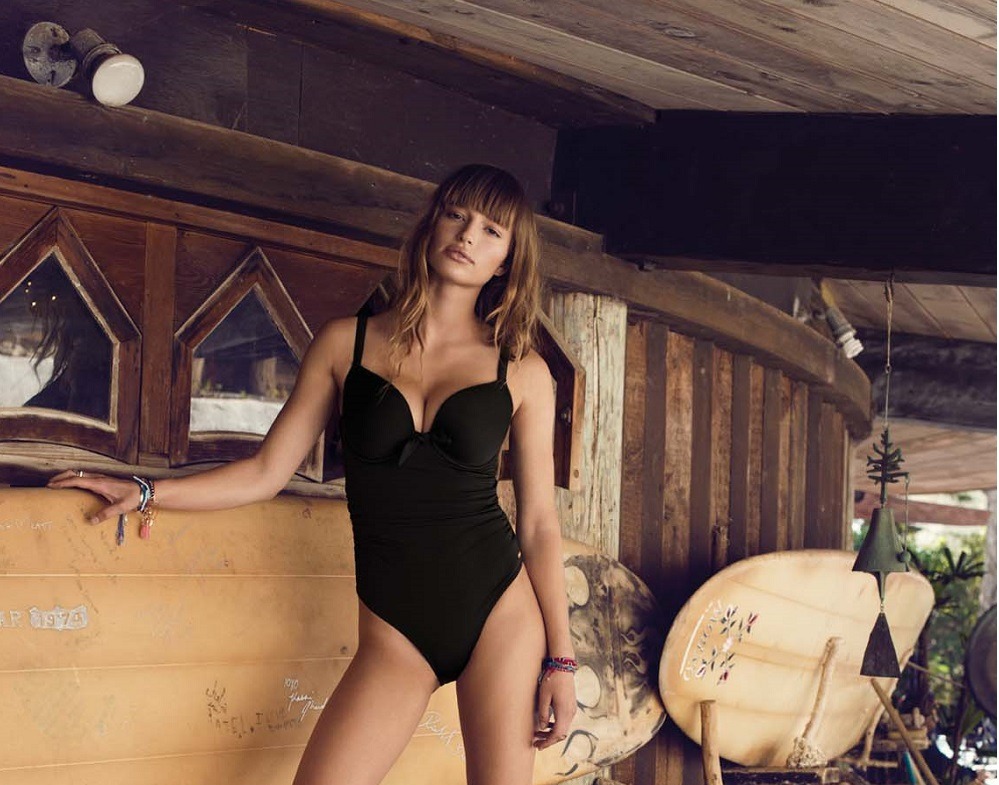 WHY BRA SIZED SWIMWEAR???
Our bodies aren't shaped from cookie cutters, so why should our Swim be?? We need to understand the importance of DD Swimwear.  Why continue to spend money on swimsuits that don't fit properly and we are always tugging and pulling at, hoping we don't POP out at the wrong time.  Poolside is meant for relaxation so let's start getting the correct size in our Swimsuits so we can do that.  Bra sized swim tops ranging from a 28-46 and C-K cups, with this large range you are sure to find your perfect fit.  The key to a perky boosom is purchasing swimsuits by bra size with a snug fitting band, so if you try that swim top on and the band is not snug around your waist, go smaller!  Remember, smaller band means larger cup, and we make it easy to find Swimsuits for bigger busts in one quick visit!
WHAT STYLE IS RIGHT FOR ME???
Every lady is looking for something different in their Swim, some less coverage and some more coverage, but we agree that we must find Swimwear for bigger busts!!  What should you be looking for????  If you are wanting an extra boost in your Swim top, try picking out a padded plunge top or halter top in your bra sized swimwear, these will give extra perk and lift to your  breasts.  A bra sized tankini is great for a long torso or a bit more tummy,  it is slimming and flattering.  One-piece swimsuits are made from a basic mold to fit women comfortably who are proportioned about the same all over.  If you have been blessed more in your hips and thighs, maybe opt for a Swim skirt or High Waisted Brief, these will both be slimming and help to add a bit of control to those areas.  Swim skirts are available in many different lengths from just barely there to a more conservative length, and many have adjustable sides so you can personalize your fit.  Cup sized swimwear has never been easier, with so many styles available and mix and match options, you are sure to find a well fitted, unique style suited for you!