Finding Hourglass Lingerie - Just Look for the Blue Door!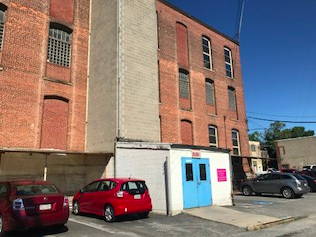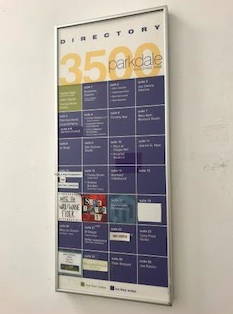 If you've ever driven past our address, you may have found yourself wondering if you were lost. There's no confusion: Hourglass Lingerie is located in the warehouse district. Very Soho like! In a studio building filled with artists and photographers. The first thing you'll notice when you approach our building is a pair of bright blue doors. We like standing out from the rest!!
Just inside those doors is the lobby. Just take the elevator to the third floor.. If you're still lost, there's a directory on the wall that will show you where to find us or any other businesses in the building. Also, that big pink sign to the right, has our floor number and phone number. So just give us a call if you have any questions!!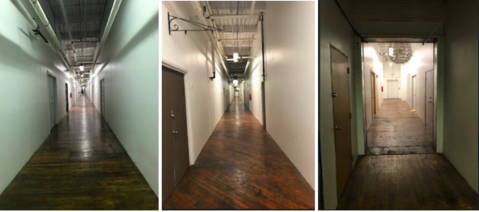 There's also a staircase near the elevators if you'd rather take the stairs. We're on the third floor, so it's not a far trip either way. When you reach the third floor, you'll face a long hallway. No worries, this hall is filled with photographers and artists, so you may even be able to stop and look at some of their work along the way!
Follow that hallway all the way down until it opens just a little wider. Our entrance is on the left, suite 25. Push open the door and you'll find a very different picture. Our studio is bright and colorful, very inviting yet cozy! And our staff is very welcoming and fully aware of the reservations of trying on lingerie. Every body type is unique and beautiful and we want to assure you that this is a judge-free zone, we will make this an enjoyable time as well as an educational session, helping you understand how a bra should fit and feel.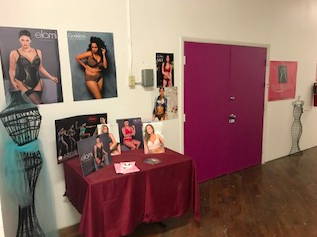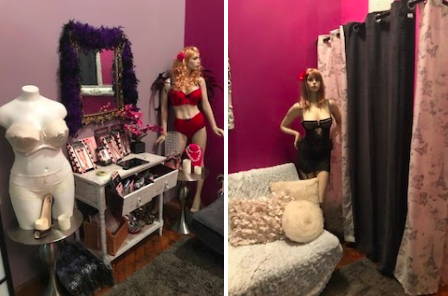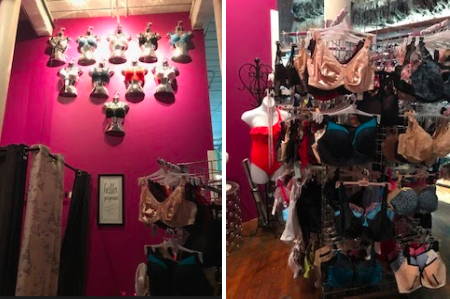 Here you'll find a massive selection of bras ranging in sizes A-N cups, as well as panties and bra-sized swimwear for all body types. And best yet, you'll get to meet us; and we'll get to help you find the perfect fit for your every last curve!
Need more help finding our diamond in the rough storefront? Just call us! 443-869-5324
Hourglass Lingerie
3500 Parkdale Avenue, Suite 25
Baltimore, MD 21211