Are your Melons really a "D"?
Jul 26 2018 0 Comments #anita #backbandrises #banddeterminescupsize #brafacts #braproblems #brasforbigboobs #bratalk #CurvyKate #D+ #D+cups #DD+ #Elomi #findmybrasize #fittingadvice #fullbustedbras #fullfigurebras #getfitted #hourglasslingerie #howtogettherightfit #ineedsupport #itfits #languageoftheD's #Parfait #plussizebras #plussizelingerie #reallynotthatlarge #shophourglasslingerie #whyihatemybra #wiresdiggingin #wirespoking #yeastinfections#boobhealth#behealthy#whygetfitted#breasthealth#rightfit#summeriscoming#boobsweat#sweatyboobs
Are Your Melons Really a "D" cup???
Remember growing up and wishing your boobs would start to fill in your bra or undershirt?? Anticipating what you would look like with breasts or how large they would be? Maybe even some of us added "just a bit" under our shirts until puberty finally kicked in! Why is it then we couldn't wait to get these magnificant lady lumps but now we see them as a burden or maybe just don't give them the proper support they deserve?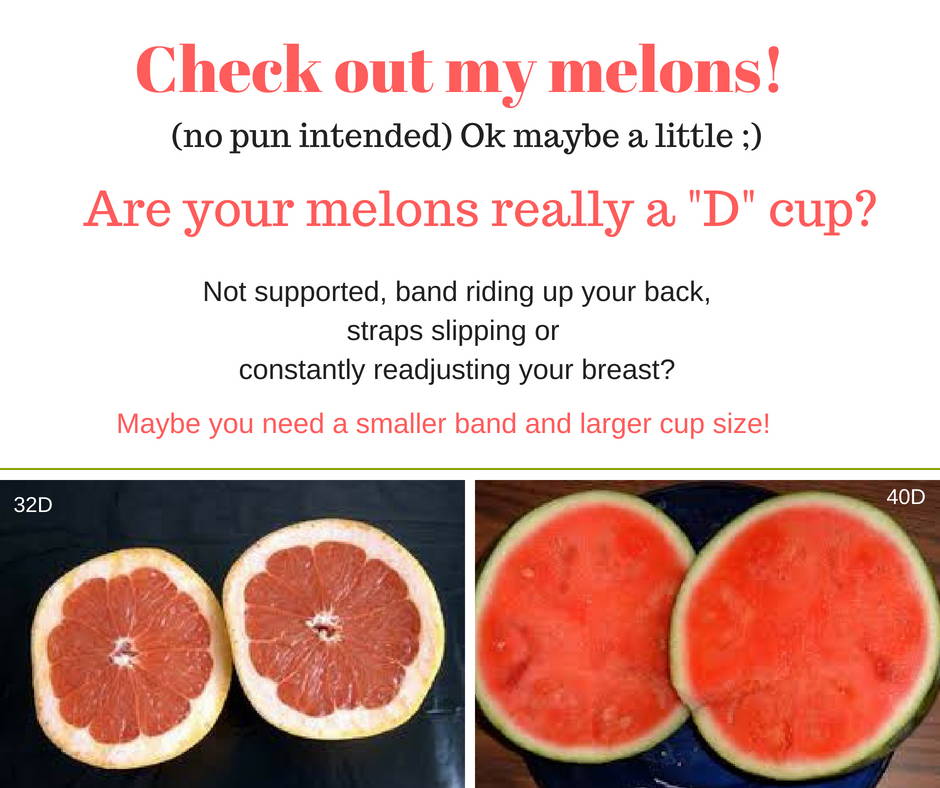 I do many fittings in a day and almost every customer I come in contact with says I'm a "D" cup. What makes the "D" cup such a magical size? I wanted to take a moment and reflect on my latest encounters with some customers that walked into my store. Two ladies walked in my store at different times, yet ironically, one lady was wearing a 38D and the other was wearing a 38DD. Both ladies in their 40's, as a matter of fact, one stating "47 year old mom looking for some sexy bras ,last time I was sized was probably 20 years ago".
I did a quick measurement on them and not any surprise to me, but an awfully big one to them, they measured a 32 at the underbust and about a 38 acrosss the bust this would have put them at a 32E, now knowing they were in the wrong size bra in the first place and most of their breast tissue was being compressed or spilling out of the bottom and sides of their cups, I knew we needed larger cups. I grabbed a 32FF, and a 32G. The 32G ended up fitting them beautifully, their breasts were lifted and completly filling out the G cups. When they put their shirts back on they could not even believe their new "image" looking back at them, a perfect hourglass shape and breasts sitting like two cakes on a plate. Yes, 47 year young ta-ta's just as perky as can be!!  
Both ladies absolutely loved their new image and asked the size, I said 32G, with disbelief in her eyes one said, I am not a G cup, I don't even know how large a G cup is. I simply said look in the mirror, there is your answer. She questioned how she could be a "G" cup and some of her friends who seem larger than her are smaller sizes.
Now, here is where the melons come into play! (Look at the pictures above and the sizes on each). I explained the volume of a 32D and the volume of a 40D, although both a "D" cup, clearly one is significantly larger, right? So as the band gets larger so does the volume of the cups, follow me? The stores that do not go past a "D" cup, are putting women in bands that are much larger than they need , just to get the volume they need. EUREKA!!!  
Problem: Band riding up my back, straps slipping, boobs slipping under my wires, wires poking under my arms
Solutions: SMALLER BAND SIZE, LARGER CUP SIZE  
Take a minute to measure your underbust and overbust, subtract the underbust from overbust and the difference should be close to your cup size. Your underbust measurement should be your band size, round up if you are between sizes. Check out our sizing guide!
---
---