Getting out of the "D" mindset
Aug 21 2018 0 Comments #banddeterminescupsize #braproblems #bratalk #breasthealth #D+cups #DD+ #fittingadvice #getfitted #ineedsupport #letsgetreal #loveyourboobies #notmysize #plussizebras #reallynotthatlarge #realtalk #shophourglasslingerie Bra Fit lingerie rising back band
So many women believe they are a D, DD or DDD cup, because they have been told this by Family, Friends or maybe even so called professional bra fitters for years. We have a tendency to believe everything that is told to us, because that is nature of the beast, we are kindhearted and believe the best in people and really believe our tribe is always there to help us.   However, many companies out there are not telling us the truth. Flaunting super models at us baiting us to buy their bras, claiming they are angels! Well here it is, they are far from angelic, and the truth is bra fitting is a simple math and most women have no idea. I know it is boring and verbatum to tell you how a bra should fit and how other companies are doing it all wrong, so I will show you with pictures. Now, as I said before many companies are using models and guru tactics to make you believe they have all the answers, but here it is plain and simple by a natural woman who started a busines on the belief of honesty, integrity and truely wanting to help other women. So speak easy and know I'm not a model just a Mom trying to help every lady love her bra!   Let us help you, call for a fitting today!!!
In the picture above I'm wearing a 46DDD. As you can see I am covered and by most eyes look like what you may expect out of a bra. However, this bra is really doing nothing for me at all but covering my nipples. I would say that 80% of my customers come to me looking like this in their bra, so this is the "norm" for most women. Look at how my boobs are basically still just hanging low in these cups. 1) BREASTS THAT ARE NOT SUPPORTED AND LIFTED CAUSE THE LIGAMENTS TO STRETCH LEADING TO SAGGY BREASTS AS WE AGE. 2)You can also see on my left side under my arm I have a lot of boob hanging out. 3)Check out the distance from the beginning of my boobs to the bow at the middle of the bra, and the fact that I am already a bit hunched over just from putting this ill fitted bra on for 5 mins as a demonstration. 4) My boobs are spilling out of the bottom of the band, this is due to the band being way too large and cups being too small. Although the band is set on the tightest hooks it is still waayyy to big.     However, this is acceptable as a propely fitted bra to many larger companies that are profiting on making customers believe this is the way it should be.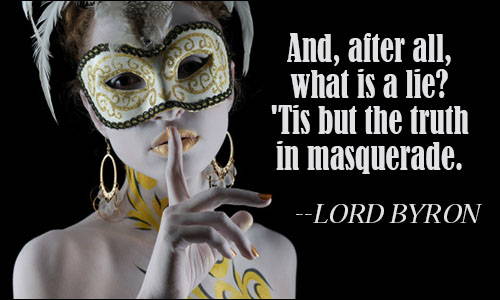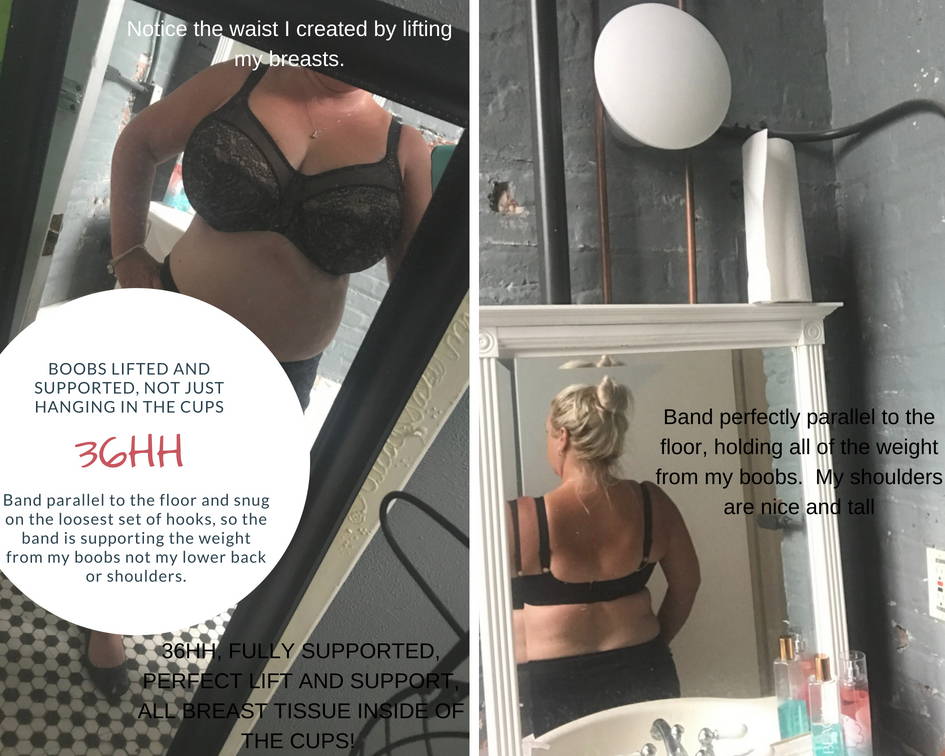 Now, the truth is exposed!! This is me in my proper size a 36HH, right off the bat you can see a huge difference! 1)First, notice my posture, I'm able to stand up tall and proud. 1) Wearing the wrong size bra will cause our shoulders to hunch over from the weight of our breasts.   Check out the distance from the beginning of my breasts to the top of the bra, much shorter, right? This is because the cups are larger therefore, accommodating all of my breast tissue so they can be lifted and supported. 2) You do not see any of my boob hanging from underneath the band, all of my breast tissue is completely inside the cups and away from the wire.   2) When the band is too large your breast tissue will spill out of the bottom of the cups, a very common issue we see on a daily basis! 3) All of my breast tissue is inside of the cups not spilling out of the tops or sides   3) In an ill fitted bra you will have breast tissue spilling out of the tops of the cups, sides and bottom.   4) The gore (center) of the bra is touching my chest wall 4) In a ill fitted bra the gore will be stuck in between your boobs not touching your chest wall  5) The band is closed on my loosest set of hooks, snug and parallel to the floor, this is extremely important in getting support. The band in this picture is holding all of the weight of my breasts, leaving my shoulders free from tension and my lower back strain free! 3) A band that is too loose and closed on the tightest set of hooks, is not doing anything for you. The band will ride up your back, and you will find yourself tightening the straps which then puts all the pressure on your shoulders causing indentations, major shoulder strain as well as hunching over.    You want to start loving your bra, give us a call or schedule a fitting!
---
---